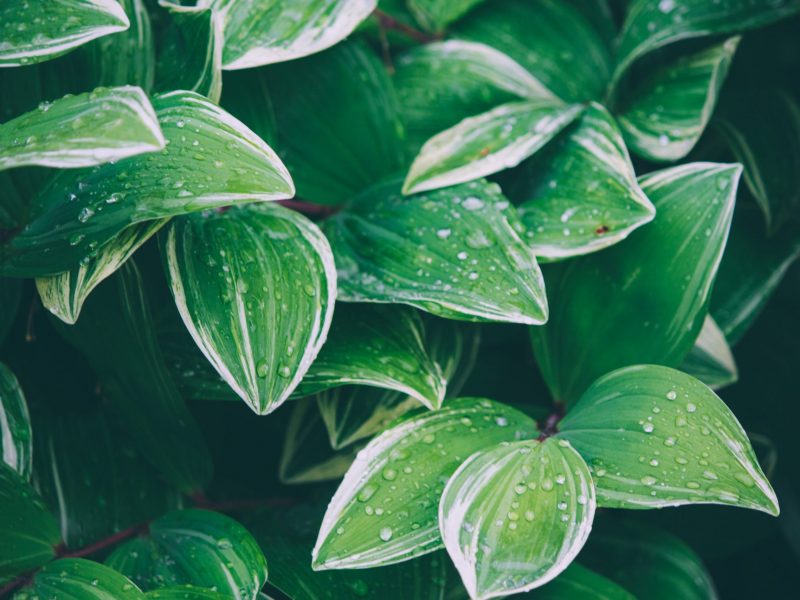 How to grow a Hosta indoors
Don't be put off growing a Hosta plant indoors just because they are typically outdoor plants because they actually make great houseplants! There are a few things you need to look out for when caring for your Hosta indoors but it's definitely a lot easier than some of the fussier houseplant types. Firstly, make sure your Hosta is well away from direct sunlight. Outdoors they grow well in slightly shadier areas as they are low plants so you don't want to expose your plant to too much light.
The second thing to note is that they need a lot of water to properly thrive. This is where things might get difficult for busy or travel-loving plant parents because they really don't like it when their soil dries out.
These are two of the initial basics to get right when caring for a Hosta plant indoors, but below you will find more detailed care instructions to keep your Hosta thriving!
Detailed Hosta Care
They don't need bright light to thrive
The majority of Hosta types prefer to grow in shady areas of your home and really don't need much sunlight. However, do check the variety of your Hosta as some do require some bright indrect light at times.
Hostas are thirsty plants
Hostas like to drink and need watering often. Make sure you keep the soil moist and the potting mix doesn't dry out completely for long periods of time.
Use fertiliser only if you want to
Feeding your Hosta plant is totally optional and up to you. If you do want to feed your plant then use a water-soluble fertiliser monthly during spring and summer. Cut back completely during winter though.
Normal room temperature and humidity is fine
Hosta plants are quite easy to care for because they aren't super fussy about temperature or humidity levels. They will be just fine with the natural environment in your home which is two less things to worry about!
Propagate your Hosta using stem cuttings
The easiest way of propagating your Hosta (if you don't want to grow from seeds) is by using a stem cutting. Place the cutting in water and you should see roots starting to grow after a few weeks. You'll have the best chance at a successful propagation if you do it in spring as this is the start of the growing period.
Unfortunately, Hosta plants are toxic to pets
You will want to keep your Hosta plant away from any pets as they are toxic if ingested.
Hosta Care FAQs
Can Hosta plants be grown indoors?
Yes Hostas can make great houseplants! Usually they are gorn outdoors but recently they've become really popular as indoor potted plants too. 
---
How much light does a Hosta need?
The majority of Hosta types prefer to grow in shady areas of your home and don't need much bright sunlight. However, do check the variety of your Hosta as some do require some bright indirect light at times.
---
Are Hosta plants toxic?
Yes unfortunately Hosta plants are toxic. 
---
Are Hosta plants easy to care for as houseplants?
Hosta plants aren't the most difficult plants to care for because they can adapt well to a range of environments. However, the one thing they do require is consistent watering as they don't like their soil to dry out. 
---
Common Issues with Hostas
Regardless of your experience as a plant parent, it's always important to know what warning signs to look out for that might suggest something is wrong with either the environment or care routine you are giving your Hosta. It's also worth remembering that the sooner you act to solve the issue and the earlier you've caught it, the easier it will be to fix and  bring your Hosta back to full health.
Why are my Hosta's leaves discolouring?
If there are dull and faded patches on the leaves of your Hosta plant then it is probably getting too much sunlight. Move to a slightly shadier spot in your home and trim away the worst affected leaves.
---
Why are there holes in my Hosta's leaves?
If you notice small holes in the leaves of your Hosta then it usually means there is a pest infestation. Isolate your plant away from any other and carefully inspect the leaves. Trim down the worst affected areas and wash your plant down before treating with an insecticide. If the problem continues you might want to get rid of your plant to prevent the infestation from spreading to your other houseplants.
---
Why does my Hosta have brown leaves?
If your Hosta has brown patches on the leaves it either means the temperature is too high or it is receiving too much direct sunlight. Often these problems are interlinked as sunlight will cause hotspots near windows so move your Hosta plant to a shadier place in your home and trim away the worst affected leaves.
---