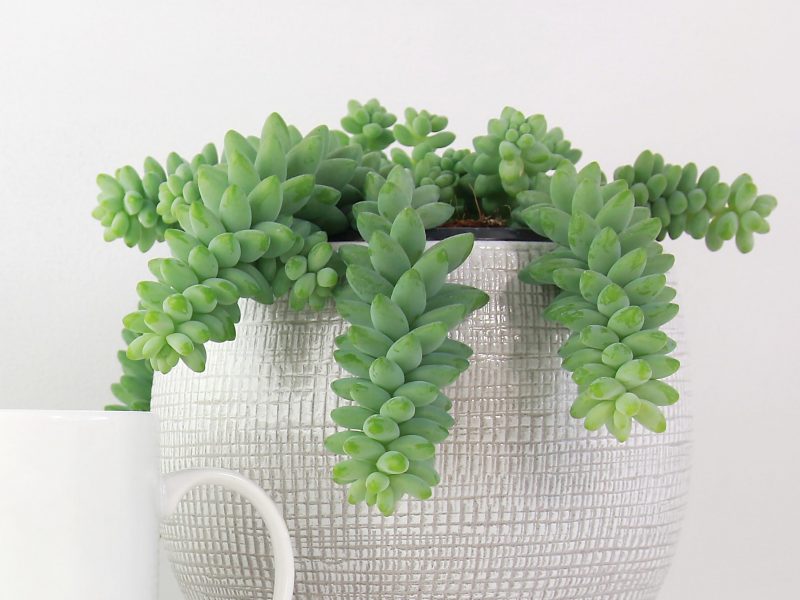 Also known as the Donkey's Tail plant, these succulent plants can be quite sensitive to look after so it can be quite common that they develop brown leaves. Whether you have noticed brown spots on the leaves or patches of your Burro's Tail have turned brown, there are only two reasons why this might be happening which makes diagnosing and fixing the issue a lot simpler. 
Below, you'll find the main reasons why your Burro's Tail has developed brown leaves, as well as how to fix it and prevent it from happening again in future. 
Underwatering
If your Burro's Tail's leaves have become quite brown, dry and crispy, it may be because you have underwatered your plant for a while. Although your Burro's Tail won't die on you suddenly if you make it go a little while without water (as they are succulents), consistent underwatering will start to have an impact on your plant's roots and overall plant health. It is important to keep an eye on the moisture levels in the soil so you know when your Burro's Tail is ready to be watered.
Check the moisture levels in the soil before each water so you can start to see when it may need more or less water and adjust your watering schedule accordingly to prevent more brown leaves. To do this, there are a few really easy ways to make sure that your Burro's Tail definitely needs water. First check the moisture at the top of the soil, if it is still damp then wait a few days before watering again. You can also lift up your Burro's Tail to check the weight of the plant before and after watering. After a few weeks of doing this, you'll start to be able to gauge how heavy your plant is when it's time for watering. If you still aren't sure how to tell if your Burro's Tail needs watering, then we recommend using a moisture meter to help you prevent brown leaves. They are really affordable little devices that you pop into the soil and it'll tell you how damp the soil is – a total plant lifesaver! You can pick one up from Amazon here.
Once you have figured out if underwatering is the cause of the brown leaves on your Burro's Tail, you now need to think about how to fix it. Your first instinct might be to give your Burro's Tail loads of water straight away. However, this can actually be harmful to your plant if the soil goes from one extreme to the other as this can cause plant shock and can cause more issues than brown leaves. You want to reintroduce frequent watering by giving your Burro's Tail a little bit once a day for a week or two and this should solve the problem.
Sunburn
Burro's Tail plants thrive in bright areas of the home/garden but can show symptoms of sunburn if they are getting too much bright direct sunshine and this shows up as brown patches throughout your plant. This often occurs during the summer months where the sunlight is a lot stronger and out for longer each day. 
Unfortunately, brown sunburn scars are permanent so you might want to think about re-locating your Burro's Tail to a spot in your home that gets less direct sunlight and this should avoid any more brown leaves.
Those are the main two reasons why Burro's Tail plants develop brown leaves. We recommend taking a close look at the environment your Burro's Tail is in, as well as your watering routine to determine which is causing the brown leaves. If the problem hasn't spread to the entire plant, you have a good shot at getting your Burro's Tail back to full health. 
Check out our Burro's Tail care guide for more information about how to care for your plant, propagate it and deal with a whole range of issues.