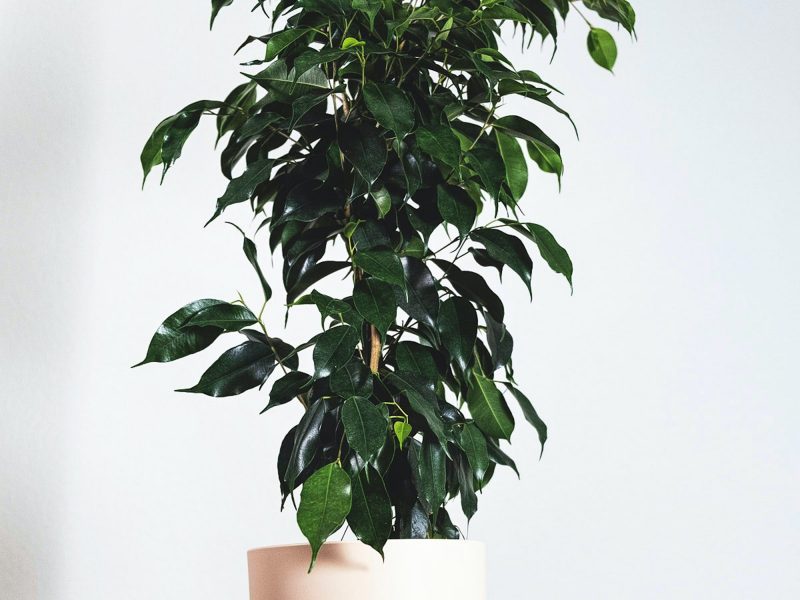 Basic Weeping Fig Care
You'll be pleased to know that Weeping Fig plants (often also known as Ficus Benjamina) are super easy to care for and adapt well to a real range of environments. Their lack of complicated care requirements means you'll often find them in offices and schools as they bring a little bit of wilderness to the space, without needing someone to constantly be caring for it.
The main things to remember are they love all levels of light (though will produce less growth with low light) and really don't like their soil to get super soggy, so don't water it as frequently as you would most of your other plant types.
Below you will find our complete Weeping Fig care guide with all the information you need to help your plant thrive.
Detailed Weeping Fig Care
Bright, indirect light is best
Weeping Figs love spots with bright, indirect light. They can deal with some direct light so you don't need to be too careful about putting it near a window.
Don't let the soil become waterlogged
Weeping Figs don't like sitting in water so we recommend watering it with little water but often. This way it keeps the soil moist without ever becoming waterlogged.
Never move your Weeping Fig
One of the most important and unique things to do when caring for a Weeping Fig is keeping it exactly where it is. They hate being moved and this will cause shock so try and find a good spot and leave it be!
Invest in a humidifier
One of the best things you can do for your Weeping Fig is buy a humidifier. This will make sure that the humidity level is high enough for your Weeping Fig as well as at a constant level.
Weeping Figs need to be fertilised often
We recommend fertilising your Weeping Fig once a month during spring and summer using a water-soluble feed. Cut back on the fertiliser during winter though as your plant will be dormant.
Weeping Figs are safe for pets
You don't need to worry if you have your Weeping Fig around any pets because they are totally safe and non-toxic for them.
Weeping Fig Care FAQs
Do Weeping Figs prefer full sun or shade?
Ficus Benjamina plants can actually deal with a wide range of sun levels. Whilst bright but indirect light is best, they can adapt to lower light if needed. 
---
How often should I water my Weeping Fig?
You want to water your Weeping Fig about once a week during summer and once a fortnight in winter. This will prevent the soil from getting waterlogged whilst not allowing it to fully dry out for too long. 
---
Are Weeping Figs toxic?
Ficus Benjamina plants are safe and non-toxic. 
---
Are Weeping Figs easy to look after?
Yes, Weeping Figs are one of the easiest plants to care for as they adapt well to a range of environments. This makes them perfect for plant beginners as well as offices. 
---
How long do Weeping Figs live for?
The typical life span of a Weeping Fig is around 15 – 20 years with the right care and in the right environment. 
---
How tall does a Weeping Fig Tree get?
When grown indoors and given the right care, they can grow between 3 and 6 feet tall. However, when grown outdoors can reach heights of 40 – 60 feet!
---
How do you make a Weeping Fig bushy?
To encourage bushier growth, the best thing to do is to trim your Weeping Fig so that you are cutting just above the node. Two shoots will then grow out from the node, producing bushier growth. 
---
Common Issues with Weeping Figs
Although Ficus Benjamina plants are pretty fuss-free, this doesn't mean that you won't encounter the odd problem from time to time. But don't worry, as long as you know what to look out for and act quickly, you should be able to get your plant back to full health in no time. 
Why is my Weeping Fig losing leaves?
This is the most common issue with Weeping Figs and it is also the most complex. They are quite sensitive plants when it comes to temperature and moving to a new spot so those are the first things we would consider. They may also be losing leaves due to lack of humidity or sunlight or simply natural ageing.
---
Why does my Weeping Fig have brown leaves?
If the leaves on your Weeping Fig are quite dry, brown and crispy, then consistent underwatering is often the cause. However, if the leaves look more scorched then it may be due to too much direct sunlight.
---
Why are the leaves on my Weeping Fig yellow?
Yellow leaves are often a sign of watering issues. Check the moisture levels in the soil and adjust your watering schedule going forward.
---